DISPLACEMENT OF MEN IN THE UK
By Shirley Edwards
January 10, 2015
NewsWithViews.com
[These are my views as a woman living in England, on how the culture and spirit of my country has changed over 50 years. Why the country does not feel protected or strong any more, how it has lost, and is losing it values and decency, and how we are daily losing our free speech.]
Visits to London skyrocketed during the month of November 2014, as both
British and international tourists flocked to witness the ceramic art display of 888,246 red poppies, which covered the grounds and the moat of the Tower of London.
Planted to commemorate the fatalities of the first world war of 1914-1918, the artistic display of poppies entitled Blood Swept Lands and Seas of Red has now raised money for charities, such as The Royal British Legion, Help for Heroes, SAFFA, Coming Home, Combat Stress and Cobseo, which all provide the support to our service men and women and their families, in times of need. It is reported that 8 million pounds has been raised.
Visitors who witnessed the vast display of poppies spoke of being deeply moved by the sea of remembrance. It bought home to them that each poppy represented a life which was lost in battle.
Those who later purchased a ceramic poppy to raise money for the charities, together with those of us who purchased the simple paper one, repeated the chorus that it was for the reason, 'Lest we Forget'
There was a 'united' appreciation of our forces and an appreciation of what the beautiful artwork achieved, and the hearts it could soothe; a sense of togetherness in honouring bravery, but unfortunately there is a somewhat strange irony these days in the United Kingdom, as people talk about freedom, and the reality of how a generation now feel when they personally experience and witness the compromises which have been made to rob them of the ideals, free speech, and freedom in a country for which our ancestors died. A battle cry which is often heartbreakingly heard today can be "is this what our soldiers died for?"
As the poppies were removed from the grounds of the Tower of London, the reality of how generations now live will not reflect the promise we have made to the fallen. They are remembered, but there is also forgetfulness, a betrayal, which strangely exists as the clock moves on to November 12th. The importance of God and men in society is forgotten.
The poppy, like the cross, whether diamond encrusted, ceramic or paper, has become a token gesture, a fashion trend, an acknowledgement; executed, but sadly lacking in promise by some of its prominent wearers. There is another agenda which is gathering momentum. Another battle has already taken place.
We now live in a country in which strange and immoral laws now reign, and freedoms have been afforded to that and those who are wrong and not that which is right. The real heartaches, and the true answers, are silenced. To speak openly about concerns, objections or fears is considered 'hate crime'. Lack of character and the ulterior motives of those who were meant to protect our heritage now sweep the land.
Flickering Lights and a Top Show
London has been all aglow now with the festive lights of goodwill and cheer.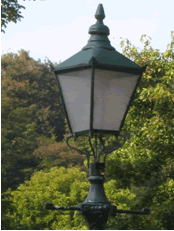 Oxford Street has stood in all her glory advertising herself as being one of the most famous light displays in the world. It was pretty, it was warm, it was uplifting, but it is what you call 'top show'. We are adept at providing such displays. The impostor's light however is showing cracks as its plans for snuffing out the ultimate light of goodness gains momentum. As each day passes and we exchange gold gifts for plastic, many people are now waking up to the fact that there is something very wrong with the future they see coming. They sometimes struggle in knowing how to stop it.
Christmas Eve on the TV, was constantly interrupted, in-between American classic 'It's a Wonderful Life', with advertisements for summer holidays. It was as though the reality of the life we have forgotten, can be soothed with the hope of the summer sun; rather than the hope of the healing rays of the son who we are meant to worship and remember. Truth mixed with distraction.
Will the message of George Bailey's absence of righteous goodness, his love and appreciation of family and neighbour, his uncompromising willingness to do the right thing, be able to touch each heart sooner rather than later when we realize Christian principles leave a void which evil wants to fill? Can we collectively call out to God like George did, when reality shows us the earth is dark and void when genuine principles die, and are swept away, in favour for the fake imitation ones?
As truth becomes persistently persecuted, elected leaders in both the secular and religious world seem to convey such bewildering and confusing messages with little, to no support, for the genuine victims. Like the London lights, its all become known as top show.
And as a report in the Daily Mail states that a senior Church of England bishop, Lord Harries of Pentregarth, believes when Prince Charles eventually takes the throne the service should be opened with a reading from the Koran, many people in the nation wake up and sigh.
The report reads:- "The gesture would be a 'creative act of accommodation' to make Muslims feel 'embraced' by the nation.
The out of touch comments will further alienate and divide a nation that desperately wants to re-claw back British values.
Overly embracing other cultures, in the generous and considerate way it has, has now left the UK all loved out. Drained of life force. Has the Church of England forgotten who is meant to be its first love?
As the country looks down upon the weak leadership of the Church of England, setting up individual house groups, or going their own way, The Church of England continues to now celebrate its new appointment; this time for the first female Bishop, Rev Libby Lane.
The Archbishop of Canterbury, Justin Welby, who has petitioned for the ordination of women bishops, in a report for BBC news said, he was 'absolutely delighted' with the Church of England's first female bishop. In the past he has apologized to women priests who he said had been hurt by the knee jerk resistance to change.
The ordination of women bishops in the UK has strongly divided the church over some years with many who object to such appointments being labelled 'traditionalist' because the Bible states that a woman should not have authority over a man.
However, beating Libby to the post is 11 year old Rebecca Howarth who has been made first girl bishop of the month, and will now take charge at her local parish church in Manchester.
The Telegraph reported Rebecca welcomes the Church of England's change in legislation. It is a step in the right way towards equality. On boys, she is quoted in the article as saying:
"If we get put into groups and they're the only boy in the group, they have a bit of a huff and a sigh," she explains. "Sometimes they think they're more
important than us."
The Uniqueness of Men
The church, like little Rebecca, maybe do not see all around them that men and boys are being displaced and weakened to make way for a much more stronger dominate force to fill their place, and that a fatherless generation, need a father. A solid male role model to look up to. The issue has nothing to do with 'equality'.
Former Bishop, Michael Nazir Ali, who who is not afraid to speak up about the attack upon society by both radical Islam and social values, recently criticized the NHS, for its first funded national sperm bank which will make it easier for single women and lesbian couples to have children without the need of a father. In his insightful article he writes about 'father hunger'.
It is reported that the sperm bank allows women to choose from the profiles of the donors on line, and in effect choose their own designer baby. Whilst heterosexual couples may use the sperm bank, funded by the Department of Health, it has largely been put in place by the demand of thousands of women, who want to have a child without having a relationship with a man.
Have we Forgot
During the 1914- 1918 war 888,246 men died in Blood Swept Land and Seas of Red. Maybe they thought their country, mothers, sisters and children were worth protecting? They were needed.
The people who visited the ceramic poppy display at the Tower of London may have noticed their own father hunger inside themselves. Some may have remembered their dead brother or son, or a father they never knew. Maybe, a son or husband who is currently serving in our forces. People and places you can never have back.
When I saw the pictures of the Tower of London, and the red moat of poppies surrounding it, I thought about this fortress standing protected on an island that didn't feel protected. I wondered if we would have a time when more violence would appear on our streets as threatened by the murderers of Lee Rigby on the streets of London in 2013.
I so hope not, but it does not look good. I know what it is like to live without a father, husband or brother. Father hunger saved me. Women make a big mistake, no matter how successful they are if they think they don't need men, but the tactics being used by a force that wants to destroy, has already taken so many lives; like a stealth bomber designed to avoid detection.
I loved watching 'It's a Wonderful Life', the friendship, the simple values, the children all hanging and clinging on to their father, and Mary's love for her husband. Like finding a hidden gem that you thought had been lost forever.
Clarence: Strange, isn't it? Each man's life touches so many other lives. When he isn't around he leaves an awful hole, doesn't he
Giuseppe Martini: Joseph, Jesus and Mary. Help my friend, Mr. Bailey.
Ma Bailey: Help my son, George, tonight.
Mary: I love him, dear Lord. Watch over him tonight.
Janie Bailey: Please, God, something's the matter with Daddy.
ZuZu Bailey: Please bring Daddy back.
Sources:
1 - Fundraising for the Legion.
2 - In pictures: The poppies at the Tower of London.
3 - Bishop Michael Nazir-Ali.
4 - Koran should be read at Prince Charles' coronation says top bishop: Critics attack proposal and accuse Church of England of 'losing confidence' in its own traditions.
5 - Welby 'absolutely delighted' with first female bishop.
6 - Female priests have suffered, says Justin Welby.
7 - Meet Britain's first 11-year-old female bishop.
8 - Designer babies are a disaster for society, writes Bishop Michael Nazir-Ali, former Bishop of Rochester.
9 - NHS to fund sperm bank for lesbians: New generation of fatherless families... paid for by YOU
© 2014 Shirley Edwards - All Rights Reserve
---
Shirley Edwards was born and lives in Great Britain. She has always worked in administration, but have also taught and studied complimentary health. In administrative roles, she has worked within The Church of England. She also worked for some years as a volunteer within the hospice movement.
Shirley has an interest in all health issues, loves the British countryside, and enjoys writing. She is thankful for talk radio and loves listening.
Shirley has always been concerned about the loss of freedoms in her country, also the demise of America, a country she loves for the original reasons on which it was founded. She believe in the Pursuit of Genuine Happiness.
E-Mail: eshirley02@gmail.com
---