PENDEMIC PROTOCOLS MAY PROVE WORSE THAN THE DISEASE
By Jim Kouri
Posted 1:00 AM Eastern
October 23, 2007
NewsWithViews.com
While most lawmakers in Washington are concerned about the rights of terrorists, illegal aliens and thugs, they seem oblivious at best, uncaring at worst, to what's being planned for Americans in the event of a serious outbreak of the deadly Bird Flu or other highly contagious diseases, especially those that are airborne.
As of June 27, 2007, 315 human beings were known to have been infected with the H5N1 bird flu strain, with 191 deaths (a mortality rate of roughly 60 percent). While this is a disturbing medical statistic, it is hardly a reason for international panic. However, it appears that some US government agencies and affiliated organizations are doing just that -- or so they'd like Americans to think.
For instance, the International Association of Chiefs of Police and its affiliated state organizations such as the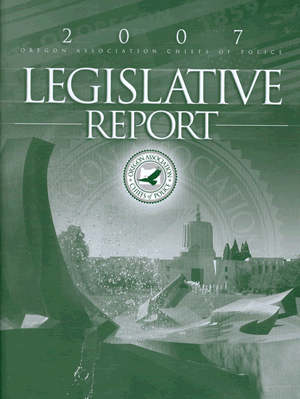 Oregon Association of Chiefs of Police have recently formulated in their 2007 Legislative Report an emergency plan for police agencies in the event of a pandemic involving the so-called Bird Flu.
Prior to a pandemic event, the plan urges that local leaders prepare their communities for implementation of pandemic influenza containment measures that may be called into play during the emergency. Community disease control measures range from "individual containment measures to community-based containment measures."
At the individual level, law enforcement personnel may be called upon to contain the spread of infection by enforcing the isolation of individual patients and by managing individuals who may have come into contact with sources of infection. These steps may be carried out by enforced isolation at health care facilities, individual homes, or "alternative facilities" that can easily be regarded as prison camps.
The protocols urge local law enforcement leaders to prepare to provide guards and other personnel necessary to isolate patients with a highly infectious disease, and persons who have come in contact with them, at multiple facilities in their communities. At the community level, the plan describes containment measures involving local law enforcement which range from voluntary snow days to the closure of office buildings, shopping malls, schools, and public transportation to widespread community quarantine (or cordon sanitaire, as it is known).
In the voluntary snow day scenario, when the public is asked to stay at home rather than go about their normal daily business, law enforcement leaders will need to communicate staffing decisions about nonessential personnel who should honor the snow day declaration.
If public facilities and public transportation are closed, local law enforcement will doubtless also be called upon to enforce facility and transportation closure orders and to provide essential transport for supplies, patients, and public health personnel. And, if a community quarantine is ordered, local law enforcement agencies will further be called upon to legally enforce the order, in coordination with involved public health officials and personnel in neighboring jurisdictions.
One part of the pandemic protocol included in the Oregon Police Chiefs Association model is the confiscation of "companion" and "service" animals by law enforcement. This protocol is rationalized as part of "animal welfare," but the emergency protocol doesn't mention the reasons for such an enormous undertaking or how animals owned by Americans will be protected and returned.
In the event of a pandemic, law enforcement will be involved with managing all types of travel, but local law enforcement will have particular responsibility for managing the risk of disease related to travel in the United States, according to the IACP's model policy and procedures.
What is glaringly absent from these protocols is the need to control illegal aliens entering the US without health screening. One police colleague asked me: How do we expect to control the pandemic if we continue to allow hundreds of thousands of illegals to enter the US monthly.
"So we're going to send Americans to "health camps" and confiscate their livestock and pets, but allow illegal aliens free access to the United States? That's insane," he said.
Instead the "pandemic plan" urges that travel-restriction planning in preparation for a pandemic engage a broad range of health and community leaders, including public health and hospital personnel, local law enforcement, firefighters, political leaders, and representatives of airports, seaports, transportation service providers, and others.
A number of legal issues will come into play during an influenza pandemic. These issues may be addressed through the department's legal service or through the jurisdiction's legal advisor or contract attorneys.
One major issue is the legal authority to impose, and the responsibility and authority of law enforcement to enforce, orders during public health emergencies involving containment, isolation, or quarantine of civilians; closure of schools and public facilities; declaration of curfews; prohibitions on travel; and other similar emergency actions.

Advertisement
The Police Association Bureacracy
The Oregon Association Chiefs of Police (OACP), established in 1953, is a voluntary association of persons employed within the state as Chiefs of Police. The mission statement of the organization states that they are a "non-profit organization dedicated to helping communities achieve the highest level of physical safety and an accompanying sense of well-being through progressive police leadership." The organization implements this mission through: executive training, community safety education, applied research, scholarships, and monitoring legislation.
Membership includes police chiefs and deputy chiefs (or high-ranking officers) from both public and private police departments. OACP also has many Associate Members, which include retired chiefs, security and operations representatives of private businesses, BPSST, FBI, ATF, State Police, private security and detective companies, and college security departments.
The International Association of Chiefs of Police was founded in 1893. The association's stated goals are to advance the science and art of police services; to develop and disseminate improved administrative, technical and operational practices and promote their use in police work; to foster police cooperation and the exchange of information and experience among police administrators throughout the world; to bring about recruitment and training in the police profession of qualified persons; and to encourage adherence of all police officers to high professional standards of performance and conduct.
Professionally recognized programs such as the FBI Identification Division and the Uniform Crime Records system can trace their origins back to the IACP. In fact, the IACP has been instrumental in forwarding technologies and philosophies from the early years of its establishment to now.
From spearheading national use of fingerprint identification to partnering in a consortium on community policing to gathering top experts in criminal justice, the government and education for summits on violence, homicide, and youth violence, IACP efforts focus attention on international narcotics trafficking, drunk driving, police use of force, civil disorder and criminal aliens.
A priority for the association is assisting departments in implementing community policing in their jurisdictions. The IACP assists departments in implementing a host of programs such as the Americans with Disabilities Act, less-than-lethal weapons training and contemporary management techniques. The IACP purchases a new headquarters building in Alexandria, Virginia. Highly successful summits on violent crimes and homicides are conducted by IACP; the results receive national visibility. The IACP celebrates its centennial year.
Subscribe to the NewsWithViews Daily News Alerts!
In just the last several years, the IACP has set up a regional world headquarters in Durbin, South Africa, Rio De Janeiro, Brazil, Dublin, Ireland and there are many more venues on their global drawing board.
"It is important for the "I" in IACP, which stands for International, be fortified with the continuance of these efforts in establishing world regional headquarters. It is important that someday a man or woman standing before you is elected will be from a country outside of North America. This will tremendously validate our organization's commitment to the "I" in IACP," according to their mission statement.