VALERIE JARRETT: OBAMA'S REAL WAR ADVISER, SAYS INSIDER
By NWV Senior Political News Writer, Jim Kouri
Posted 1:00 AM Eastern
February 5, 2015
© 2015 NewsWithViews.com
News regarding one of the Taliban detainees released in exchange for suspected deserter Sgt. Bowe Bergdahl has revealed the lengths to which President Barack Obama's top advisor is allowed to go in dictating how the U.S. will fight -- or not fight -- Islamic terrorism. While Obama and his subordinates practically swore an oath that the five Guantanamo terrorists turned over to Qatar didn't pose a threat to the homeland or U.S. interests overseas, news of one of those released terrorists having contact with suspected jihadists had the White House playing verbal gymnastics on Thursday and Friday. "None of these individuals has returned to the battlefield. None of them is allowed to travel outside Qatar. And none has engaged in physical violence," White House press secretary Josh Earnest said.
However, according to an inside source in the nation's capital, the trade for an Army deserter, the hesitancy to take stronger action against the Iranians, and the refusal to use the term Islamic terrorists are but three of the issues upon which Obama's political mentor Valerie Jarrett has the final word, despite her never being elected by the American people and never being confirmed by the U.S. Senate.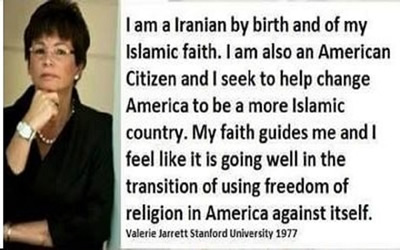 According to anonymous source, a top law enforcement official, Jarrett doesn't even have a job title nor does she possess a written job description. Yet, the entire federal defense and law enforcement agencies are working hard to shut down the U.S. terrorist detention center known as Gitmo because she's offended by its existence.
For example, at the World Economic Forum in Switzerland, Secretary of State John Kerry made certain to avoid offending or disrespecting Muslim terrorists such as the Islamic State of Iraq and Syria (ISIS). He told the attendees at the forum that the U.S. government will never rush to judgment regarding the nature of the Islamic State: "We have to keep our heads…the biggest error that we could make would be to blame Muslims collectively for crimes not committed by Muslims alone. Crimes that the overwhelming majority of Muslims oppose… Religions don't require adherence to be raze villages and blow up people, its individuals with a distorted and an even ignorant interpretation of religion who do that."
According to the Examiner's anonymous source, those were not the words of Kerry, but were the dictates of Valerie Jarrett, who had been born and raised in Iran, and has always shown sympathy for the fundamentalists in the Islamic religion. While a student at Stanford University, Jarrett admitted her loyalty to Islam and continues to object to any negative statements aimed at any part of her "religion of peace."
"Farsi-speaking Valerie Jarrett, the senior advisor to Obama, his right-hand woman was born in Iran. She also has ties with terrorist William Ayers, and her father-in-law, Vernon Jarrett is a card-carrying communist party member and associate of Frank Marshall Davis, the controversial Communist Party activist who was Obama's childhood mentor. Davis is mentioned many times in Obama's autobiography. Obama's senior advisor/campaign manager David Axelrod also has family roots in the Communist party. His parents were Communists," according to former Saturday Night Live comedian and actress Victoria Jackson, who now hosts a conservative talk show and researched what she calls "the real Obama White House."
This week, ISIS allegedly released a video proclaiming its intent to kill the President of the United States. An Islamist said: "Know, oh Obama, that we will reach America. Know also that we will cut off your head in the White House and transform America into a Muslim province," then the terrorist decapitates a captured Kurdish soldier. However, the White House spokespeople continue to refuse to even mention Muslims, Islam, jihad or any term that isn't endorsed by Iranian-born Valerie Jarrett.
In 2013, the well-respected Investor's Business Daily ran a story that alleged that most of the cover-up in the Benghazi terrorist attack is aimed at protecting the President and Valerie Jarrett. It is suspected that the infamous "stand-down" order came from her lips, since her boss went to bed early to rest-up for his busy campaign schedule in Las Vegas.
© 2015 NWV - All Rights Reserved