VLADIMIR LENIN'S PLAN:
1- OFFER FREEDOM FROM PERSONAL RESPONSIBILITY
2- FREEDOM FROM THE BOUNDS OF RELIGION
3- FREEDOM FROM MARRIAGE, DEMOCRACY, HISTORY AND CULTURES
4- FREEDOM FROM LAND OWNERSHIP
5- ENJOY FREE FOOD AND MEDICAL CARE
6- THE GOVERNMENT WILL PROVIDE
7- FREEDOM FROM FREE MEDIA EXCEPT GOVERNMENT MEDIA
8- FREEDOM FROM INDEPENDENT THOUGHT
NEW WORLD ORDER PLAN:
1- CENTRAL PLANNING
2- CONTROL OF CURRENCY
3- CASHLESS SOCIETY
4- CONTROL OF SECURITY
5- CONTROL OF JUSTICE
6- ROTHSCHILD LEGACY OF WHO CONTROLS DEBT CONTROLS THE KING
7- DISBANDMENT OF NATIONHOOD
8- PROMOTION AND FUNDING TO DISRUPT GOVERNMENTS OTHER THAN THAT CENTRALIZED IN BRUSSELS AND THE HAGUE.
Can President Trump SAVE US?
BELOW THE  NEW WORLD ORDER PLAN is the other side of the coin where Lenin's Plan is centered on Communist goals just opposite of a conservative agenda.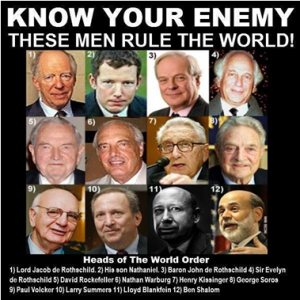 The NEW WORLD ORDER PLAN is even more ominous  since its intent is to eliminate nationalism in favor of the Global Plan to control the money system leaving a centralized group of powerful individuals, such as those listed on the following page.  That plan uses the Communist agenda as one of many tools to obtain its objective.  Their purpose is to first bring down the United States; the rest of the EU countries will fall in line  to be governed without representation witin a judicial system appointed by this centralized group in Brussels. This system influences an already weakened justice system within the United States coupled with the power of the international bankers and a corrupt congress depended on perpetuating their reelections.

Link it to what David Rockefeller (deceased) announced at a meeting at the Council of Foreign Relations (a vital part of the NEW WORLD ORDER agenda),  He stated globalism can not be stopped and thanked the  media, the alphabet TV stations ABC,NBC,CBS,and  Rupert Murdoch's "Fair and Balanced "  propaganda coupled with conservative and leftist agenda; also those book publishers who fit history to fit their Socialist/Communist and NWO views.
This agenda really never began with David Rockefeller's announcement, rather it stems all the way back to the French Revolution when religion, ethics, and epistemology were discarded in favor of the strange twists of delusional  democracy by the majority, brought on by Adam Weishaupt's infection of the Jacobins and the gruesome voyeurs  sitting in the front row next to the guillotine where the monarchs got a sample of injustice to satisfy a lust for revenge only to be reversed by the dictatorship of Napoleon.
The monarchy was still in charge of Great Britain who sent Wellington to dispatch Napoleon to Elba where he was slowly poisoned by arsenic, later discovered in in his hair samples.
The British Monarchy is now on shaky ground because of BREXIT as outmoded and subject to a Parliament divided between Muslims and their pernicious birth rate, the liberals, centered on the philosophy of Marx/Engels and Communism, a waffling prime minister bent on joining the EU and a New World Order now governed by those listed below.
© 2019 NWV – All Rights Reserved
E-Mail JW Kress: kressretired1982@outlook.com