It is an honor for Phyllis Schlafly's Eagle Forum to have someone like Ed Martin as their President.  With his hard work and devotion, he has taken Phyllis's Eagle Forum to the very top.  I don't know how this 46th council could be topped, but I know Ed Martin will find a way.
Bannon! Bannon! Bannon!
What a phenomenal Council meeting.  It is a testament to Ed Martin's leadership and the staff of Phyllis Schlafly's Eagle Forum, and that includes Rebekah Gantner.  Over 700 people were in attendance to hear some of the most scholarly speakers on conservative topics.
Bannon! Bannon! Bannon!  Oh yes, we got to see and hear Steve Bannon, but wait until you hear who our other speakers were!
David Horowitz
A reception with David Horowitz took place on Thursday evening and those who arrived early for the council meeting were able to chat and have their pictures taken with him.
Here is David Horowitz with President Ed Martin, and Congressman Steve King after his speech on the left's racist war against Trump and America.  Congressman King, a strong pro-lifer, spoke on defunding Planned Parenthood and saving our babies.

In the lower right-hand corner of the photo is dear Babette Francis, the Phyllis Schlafly of Australia.
Kitty and Phyllis's Eagle Forum
Here we are, me, Joyce, and Kitty at the reception on Thursday evening.  What fun!
But let me tell you about sweet dear lovely Kitty.  She is a great and courageous lady who has fought for the freedom of our nation by putting herself in harm's way.  She spoke at this council meeting about her work, and you need to hear her words.  This little woman has more courage in her little finger than most politicians in Congress have in their whole bodies.  Her story is one of great courage.
Kitty was 12 years old when Hitler assumed power in Austria. He didn't roll in with tanks and guns. Instead, the people of Austria voted him in with 98% of the vote.
Austria was in a deep depression in 1938. Unemployment had soared to more than 30 percent, inflation was at 25 percent and farmers went broke and lost their land.  "The banks were reclaiming their farms and businesses were closing up one by one," Kitty says. "They couldn't afford to pay interest. It was not unusual for as many as 30 people a day to knock on the door of our home asking for a bowl of soup and a slice of bread."
Kitty says the Communist Party and Hitler's party, the National Socialist Party, were fighting in the streets.  And they were, the danger was everywhere.
When asked why Austrians would vote for a man such as Hitler to lead their country, Kitty explains that the Austrian people had heard things were much better in Hitler's Germany. Besides, they were just a border apart and they spoke the same language and shared the same culture. Why not?
"He didn't talk like a monster. "We didn't hear anything bad about him arresting people and persecuting people. We thought he was a great leader. We got a new government where no one was elected, they were all appointed. We didn't question it."
(Appointed leaders, or unelected leaders, rather than elected leaders are the Soviet style; the people cannot get rid of them through elections. This is what is now pervading America and is totally unconstitutional).
"We got free radios to listen to. Once we had those, Hitler nationalized the radio stations," she said. "We were told if we listened to foreign broadcasting we were an enemy of the state. It was the death penalty. Then he nationalized the banks and our education system."
When asked why Kitty spends her time speaking around the country, she explains that it is so important for people to understand what socialism is. Once people understand that, they begin to realize how important the freedoms we have in America are.
Kitty so appreciates that the United States military came and liberated her people. She loves to meet and thank those who have served in other conflicts as well.
The allies and Americans liberated her country, and this woman will be eternally grateful.  It is so important that our young people understand what freedom and liberty truly mean. The heroes and heroines like Kitty who are still working every day to educate America's youth, especially because this information is no longer taught in our schools, are the true celebrities.
Make sure you order "The Ladies of Geneva" to hear an amazing story of what dear Kitty went through so many years ago to help America retain the hope of freedom for people everywhere.
Brett Decker
Brett Decker was one of my favorite speakers.  Brett is an adjunct professor at Johns Hopkins University.  He is also the co-author of Phyllis Schlafly's and Ed Martin's book, The Conservative Case for Trump.  He has written and provided strategic communications advice for projects in the United States, Asia, Australia, Europe, Latin America, and the Middle East.  He told me that we must get the book, Bowing to Beijing. Mr. Decker has spent hours with our President as they've discussed foreign policy.  He writes for the Washington Times, WSJ, and many others.  Here he is with President Ed Martin, and Steve Bannon!  Thumbs up!
Publius Huldah and Andy Schlafly
Our own Publius Huldah from NewsWithViews was at the Council Meeting again this year.  She and Andy Schlafly discussed the ongoing promotion of a Constitutional Convention and how we've fought to stop the state calls and won most of them.  It takes work folks, and Phyllis Schlafly's Eagle Forum is at the forefront in educating legislators about how another Convention would destroy our God given rights!
Bobby Schindler
Bobby Schindler is the President of Terri Schiavo Life and Hope Network.  Terri was Bobby's sister. He said he gets calls for help from all over the world and is fighting for the sanctity of life.
At the age of 26, Bobby's sister, Terri, experienced a still unexplained collapse while at home alone with husband, Michael Schiavo, who subsequently became her guardian. After a short period of time, Michael lost interest in caring for his brain injured, but otherwise healthy, young wife. Terri was not dying, and did not suffer from any life-threatening disease. She was neither on machines nor was she "brain dead."
To the contrary, she was alert and interacted with friends and family—before her husband subsequently abandoned his wedding vows, warehoused her in nursing homes, and eventually petitioned the courts for permission to deliberately starve and dehydrate her to death.  This is why Bobby fights for life, and why we should all join him.
Bobby and his family have been instrumental in providing resources and support to more than 2,500 patients and families at risk of euthanasia from physicians, hospitals, insurance companies, and others more interested in healthcare rationing than in providing basic, life-affirming care for the most vulnerable.
Please review both of my previous articles, The Culture of Death, and the seven part series, Killing Us Softly about hospice care.
Maria Espinoza
Maria is the National Director and Co-founder of The Remembrance Project.  The Remembrance Project advocates for families whose loved ones were killed by illegal aliens. Their flagship initiative is called, "The Stolen Lives Quilt" ™. She has expanded her growing organization nationally.  If you check her website, you will find several DACA people who have been perpetrators.  We need to keep alerting our president to the truth and the dangers of illegal aliens.  Maria is a voice crying in the wilderness about the deaths of American citizens by illegal aliens.
Years ago, I stumbled across an FBI website which had the stats on the deaths of American citizens by illegal aliens.  As I recall, it came close to 10K per year.  That is an insane cost to Americans.  Of course, this stat was removed.
Bill Hennessy is the Mayor of O'Fallon, MO.  He grew up in Missouri and left a theatre scholarship in 1984 to join the U.S. Navy where he spent nine years on active duty in the submarine force.  I have had friends who were in submarines and they are a totally different class of people.  It takes a special person to be a submariner.  The energy this man has is unbelievable and he was the MC for introducing us to Gateway Pundit's Jim Hoft.
Bill also was the MC at the rally for conservative candidates at the end of the council meeting on Sunday afternoon.  He had us laughing when he told about talking to the handful of protestors outside and asking them questions.  So many of these people are brainwashed with propaganda, and others are just paid to be there.  None of them could answer Bill's questions with any knowledge or logic.
Babette Francis was born and raised in India before moving to Australia with her husband.  She is one of the founding members of Endeavour Forum, Inc. a pro-life, pro-family Australian women's organization.  She is the Phyllis Schlafly of Australia and is a prolific writer and has led numerous teams to attend UN conferences on women, population, habitat and food.  Her superb and informative speech was on Islam in Australia.  This is one great lady, a real fighter for freedom and liberty.
Burgess Owens is a man you'll often see on Fox News.  He was just on Sean Hannity's program on September 28th.  At the council meeting, this man spoke of his 12 years of football where there was little to no winning, and then he was traded to the Raiders…and guess what!  Burgess Owens wears a Super Bowl Ring because his 13th year in football was a winner for the Oakland Raiders and Super Bowl 15.  He is the author of Liberalism or How to Turn Good Men into Whiners, Weenies and Wimps.  What a terrific speaker, he brought us to tears, and I'm so thrilled to have had a chance to speak with him.
And…Burgess Owens makes it clear that he will always stand for the flag and our National Anthem.  Link
James Knowles III is the Mayor of Ferguson, MO.  For 20 years, crime statistics in urban neighborhoods throughout America dropped.  Why?  Because police were there watching over the citizens, and patrol cars were on their streets.  Then Ferguson and Baltimore happened, and now many officers are afraid of going into these neighborhoods because they could be destroyed like Officer Darren Wilson, who in 2014 shot Michael Brown in self-defense according to Missouri law.  We know the outcome and how devastating this was to Wilson and to the Ferguson police department.  Today crime is rising in these urban neighborhoods because law enforcement officers do not want to end up like Wilson.  Ferguson lost many of their officers, but they're rebuilding.
The Mayor told me that our President and his support of law enforcement is turning this around.  It won't happen overnight, but it will happen, and the Mayor of Ferguson is working hard to rebuild his police department with men and women who will be there to protect and serve.
Renate Ferrante is the Executive Director of Collier Community Abstinence Program.  Phyllis Schlafly's Eagles are working throughout the country bringing this program to America's schools, and they're having great success.  Kathleen Sullivan was the first Eagle besides Phyllis to undertake educating our youth about saving themselves for marriage.  They are now making amazing inroads with this wonderful program, and it's free to the teachers, and there has not been one complaint.
Tammy Nichols, an Eagle Forum leader from Idaho is working to expose what has happened to western ranchers and especially to Cliven Bundy and those who support him all because of the government's out-of-control Bureau of Land Management.
Jayne Schindler, Eagle leader from Colorado, is working to make the rest of America understand the damaging effects of legalizing marijuana.  Legal weed is costing Colorado in many ways.
A 2014 report by the Colorado Department of Transportation found that 84 of 684 drivers involved in fatal crashes tested positive for marijuana, while more than a third of the 488 fatalities involved alcohol, according to the Colorado Springs Gazette.
"Worry that legalized marijuana is increasing crash rates isn't misplaced," says David Zuby, Insurance Institute for Highway Safety (IIHS) executive vice president and chief research officer. "Highway Loss Data Institute's (HLDI) findings on the early experience of Colorado, Oregon and Washington should give other states eyeing legalization pause."
Five other states and the District of Columbia have legalized recreational marijuana, while 21 states allow comprehensive medical marijuana use, even though pot is still regarded by the federal government as an illegal controlled substance.
And Colorado hospitals and treatment centers say marijuana-related cases have spiked.  This is going to cost Americans across the board.  From 2001 to 2009, around 809 of each 100,000 hospitalizations recorded within Colorado involved patients who admitted to marijuana use, according to the report. For the period from 2014 to June 2015, the statistic surged to 2,413 hospitalizations per 100,000.
Phone calls made to poison control centers involving marijuana exposure increased as well, from 44 in 2006 to 227 in 2015, the report said.
With regard to treatment centers, The Denver Post noted that more than one-third of patients at Colorado facilities reported near daily use of marijuana in 2014, up from less than a quarter in 2007.
There is so much more and the dangers are much higher than what the MSM is reporting.  Stay tuned for updates on this insanity.  Looks like AG Sessions is right!
John and Andy Schlafly's report on the Courts is one that everyone should have.  These two legal eagle brothers gave us some of the most important information and we need to use it.  Make sure you order their speech, it is an important tool.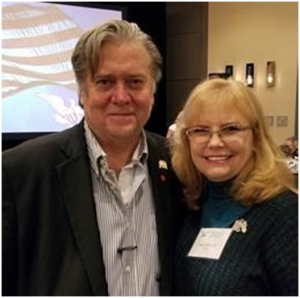 Bannon! Bannon! Bannon!

Everyone was delighted to hear Steve Bannon speak, not once, but twice. At Sunday's lunch Steve received the Phyllis Schlafly Eagle Award.  We all gathered round him later for personal pictures, and he was ready and willing to smile for all of us!  What an absolutely great guy, and he looks terrific.
Later, on Sunday afternoon, a huge rally took place where so many wonderful conservative candidates
for office spoke to us, and the media was there in the back of the auditorium.  Outside were the nine protesters who had been questioned by Bill Hennessy.
The Thrill of the 46th PS Eagle Council Meeting
Phyllis would have been thrilled with this 46th Council and the line up of speakers was tremendous. She would have raved at the job so well done by her choice of President, Ed Martin and the entire Eagle staff.
I would have loved to put all the photos from this wonderful event into this article, but space is limited.  There were many other superb speakers, and anyone can order the entire council meeting or single speakers you might wish to hear.  Go here to order, and if you want to be there next year, join Phyllis Schlafly's Eagle Forum and look forward to an absolutely wonderful three days in St. Louis starting next September 18th, 2018.
Next year will be just as amazing as this year, because our President, Ed Martin, is now bringing conservative truth even to CNN!  Wow!
© 2017 Kelleigh Nelson – All Rights Reserved
E-Mail Kelleigh Nelson: Proverbs133@bellsouth.net