AMERICA'S GROWING MULTICULTURAL QUAGMIRE
By Frosty Wooldridge
June 26, 2015
NewsWithViews.com
Last week sickened our nation with the shooting deaths of nine innocent worshipers in a Bible study class. White against Black! At the Boston Marathon two years ago, Muslims bombed Americans! We read in local newspapers of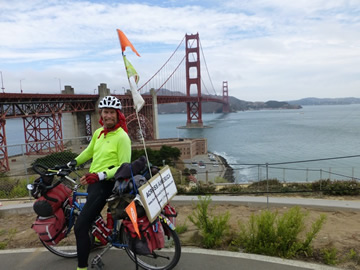 multiple killings in the past week of Blacks killing Blacks in Chicago, New York, Atlanta and many other cities. In Chicago last July 4th, no less than 50 gun fights of Blacks shooting Blacks.
Just announced this week: 121 illegal aliens released by Obama through his amnesty committed murders of Americans as reported by the Washington Times, "A total of 121 illegal immigrations whom Obama released back into the community went on to be charged with subsequent killings, according to government data released Monday that raises more questions about whether immigration authorities are doing enough to detail illegal immigrants awaiting deportation."
In the past three months, Obama quietly oversaw the importation of thousands of Syrian Muslims from that wore-torn country that will number in excess of 75,000 when the refugee resettlement program finishes. None of them vetted as to terrorism! Ironically, federal authorities brag about the terrorist threats they neutralized with Muslims already inside our country. Because of Muslims in America, Pam Geller and Hersi Ali must be guarded 24/7 from death threats. Minnesota Somalia Muslims fly out of our country to fight with ISIS.
Does anyone connect the dots as to our country's multicultural quagmire? When you import religions that foment terror, you witness terror in your own country. You witnessed Paris, France; you watched Sydney, Australia; you noticed the beheadings in London, England. You saw the killings in Ottawa, Canada, all by Muslims.
Exactly what do the 535 Congressional critters not understand about mass immigration from worn-torn poverty-stricken cultures dominated by violence? Am I missing something? If you inject 100,000 Somalian immigrants from Somalia into Minnesota, you see drug gangs, honor killings, female genital mutilation, Sharia Law and female subjugation.
When you release 121 Mexican illegal alien criminals back into our communities, you witness 121 killings of someone in American families. It's not enough that illegal aliens overrun our borders with no chance of being stopped because Obama refuses to enforce our immigration laws—but to watch the wholesale killing of our citizens at the hands of 121 criminal aliens that Obama released completely makes no sense.
The Times continued, "Critics who have been pushing for stiffer immigration enforcement said the violence rate for released immigrants is much higher and that the 121 charged are only those who got caught."
Don Rosenberg, the father of a son killed in a traffic accident by a drunken illegal alien with no license said, "Obama refuses to deport people. Those
people can and should be deported. I guess until somebody who has the responsibility to make these decisions has one of their loved ones killed, it's going to continue."
It's time to enforce our laws on our books. It's time for a total immigration shutdown now. It's time, way past time, that Congress stands up for Americans and our laws. It's time for a national referendum to quit bringing endless third world refugees into America. They all thrive on welfare and we all live poorer and deadlier lives because of it.
But this scenario hasn't changed in the past 30 years because American citizens refuse to take a stand. They continue electing representatives to Congress who refuse to enforce our employment, transport and landlord laws that specifically administer severe fines for anyone who employs, transports and houses illegal aliens.
As Ann Coulter stated in her book, we see our country deforming into a third world hellhole. It will get worse and then, it will worsen more and more until we no longer enjoy a country ruled by order and civility—but instead, multicultural chaos. Just watch as the Muslim numbers grow. America will resemble Lebanon. Actually, it already does in Ferguson, MO; Baltimore, MD and Charleston, South Carolina.
Definition of slogan: "Immigration Shutdown Now means the American people want all legal immigration dropped to less than 20,000 annually with compatible immigrants that fit our ethos and want to become Americans, and only those who benefit our country and/or they marry an American and speak English. That means we want all illegal immigration stopped by arresting, prosecuting and jailing employers of illegal aliens. We deport all illegal aliens by taking their jobs away and as we catch them. We want English mandated as our national language. We demand a cessation of Muslim immigration in order to protect our culture, language and way of life. We can't save the world but we can save destroy our civilization. We demand a stable population that allows everyone to live, work and thrive into the 21st century. Especially our children." FHW
That's why you need to take action. Send this series to everyone in your network. Educate them. Urge them to take action by joining these websites to become faxers of prewritten letters and phone callers. We must force Congress into an "Immigration Shutdown Now."
www.CapsWeb.org ; www.NumbersUSA.org ; www.Fairus.org ; www.CarryingCapacity.org ; www.thesocialcontract.com
In a five minute astoundingly simple yet brilliant video, "Immigration, Poverty, and Gum Balls", Roy Beck, director of www.numbersusa.ORG, graphically illustrates the impact of overpopulation. Take five minutes to see for yourself.
"Immigration by the numbers—off the chart" by Roy Beck
This 10 minute demonstration shows Americans the results of unending mass immigration on the quality of life and sustainability for future generations: in a few words, "Mind boggling!" www.NumbersUSA.org
America: www.CapsWeb.org ; www.NumbersUSA.org ; www.Fairus.org ; www.CarryingCapacityNetwork.org
Canada: www.immigrationwatchcanada.org
United Kingdom: www.populationmatters.org
Australia: www.population.org.au Sustainable Population Australia
© 2015 Frosty Wooldridge - All Rights Reserved
---
Frosty Wooldridge possesses a unique view of the world, cultures and families in that he has bicycled around the globe 100,000 miles, on six continents and six times across the United States in the past 30 years. His published books include: "HANDBOOK FOR TOURING BICYCLISTS"; "STRIKE THREE! TAKE YOUR BASE"; "IMMIGRATION'S UNARMED INVASION: DEADLY CONSEQUENCES"; "MOTORCYCLE ADVENTURE TO ALASKA: INTO THE WIND—A TEEN NOVEL"; "BICYCLING AROUND THE WORLD: TIRE TRACKS FOR YOUR IMAGINATION"; "AN EXTREME ENCOUNTER: ANTARCTICA." His next book: "TILTING THE STATUE OF LIBERTY INTO A SWAMP." He lives in Denver, Colorado.
His latest book. 'IMMIGRATION'S UNARMED INVASION—DEADLY CONSEQUENCES.'
Website: www.FrostyWooldridge.com

E:Mail: frostyw@juno.com
---