OBAMA SAID, "THIS IS NOT WHO WE ARE!"
By Frosty Wooldridge
December 18, 2015
NewsWithViews.com
After the San Bernardino massacre committed by one American-Muslim Syed Frooq and his Muslim bride, Barack Hussein Obama expects to inject another 200,000 Syrian Muslims into American within 24 months. Our best immigration experts stand no chance to vet any of them with any validity.
Democrats and Republicans, along with Libertarians and Independents across the country supported presidential candidate Donald Trump who said, "We need to ban Muslim immigration into our country until we find out what's going on…."
America cheered for such profound common sense. During WWII, we stopped Germans and Japanese immigration. During the Iran hostage affair during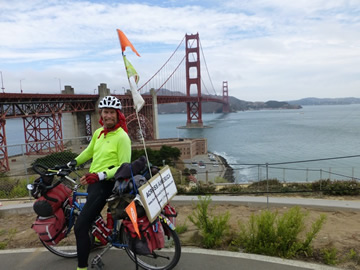 President Jimmy Carter's administration, he deported Iranian students and stopped all Iranian immigration.
But last week, after the massacre, our Muslim President Barack Obama admonished Congress to continue importing an endless stream of Muslims with no way to vet them, whatsoever. He defended his actions. When questioned about the majority of Americans that rebelled, he said, "This is not who we are."
The American people shouted back, "You are not who we are…we are sick of Fort Hood killings. We sicken at the Boston Marathon bombers. We cry at the Chattanooga Muslim killings. We hate being victims of the San Bernardino massacre. We don't want any more."
If you look at Facebook, the majority of Americans stand against further importation of Muslims for the sake of their families and friends. Question: why would an American leader inject our country with more terrorists among the refugees?
Answer: he's not an American president. He's a Muslim president.
American Reverend Jesse Lee Peterson: "This all points to the insanity of today's world, where Muslim savages follow a sixth-century madman who grew up without his father, and waged bloody jihad against Jews, Christians and other "infidels." And yet, almost all of our leaders – instead of standing against the atrocities committed by members of the "religion of peace" – are actually supporting their reign of terror by doing nothing to stop it. Worse, they're actively working against the few who – like Donald Trump – are standing up for the American people."
Notice that Barack Obama's chief advisor Valerie Jarrett said in 1977 at Stanford University, "I am an Iranian by birth and of my Islamic faith. I am also an American Citizen and I seek to help change America to be a more Islamic country. My faith guides me and I feel like it is going well in the transition of using freedom of religion in America against itself."
Make no bones about it, Obama and Jarrett vow to change America into Islamic Sharia Law. The more voters they import from all Muslim countries, the faster they can realize Sharia Law in our country. Notice no less than 13 Muslims now reside as aides to Obama at the White House. These folks move fast to overrun countries they intend to dominate.
Thirty years ago, leaders heralded Lebanon as the jewel of the Mediterranean. It's Christian heritage of hard work, devotion to country and singular culture brought it to the top. Today, overrun by Muslims, Lebanon stands as the prime example of multiculturalism's folly.
Again, read this quote in Islam's main thrust in any country it invades:
Dayanand Saraswati, Indian sage, said in 1883, "Having thus given a cursory view of the Koran, I lay it before the sensible person with the purpose that they should know what kind of a book the Koran is. I have no hesitation to say that it cannot be the work of either God or of a learned man, nor can it be a book of knowledge. Here its very vital defect has been exposed with the object that people may not waste their life falling into its imposition. The Koran is the result of ignorance, the source of animalization of human beings, a fruitful cause of destroying peace, an incentive to war, and propagator of hostility among men and a promoter of suffering in society. As to defect of repetition, the Koran is its store."
Do we bow to Mecca or do we stand for our Constitution and way of life: free thought, free speech, free choice, women's rights, free travel, free choice of religion, free choice of food, free to pursue our dreams---or do we accede to Sharia Law where all personal choices face the governance of a 6th century barbarian who thrusts his sword into Western countries in the 21st century?
At some point, we stop further Muslim immigration, or we become victims of "caliphates" known as "new countries" within our country and suffer the onslaught of Sharia Law.
If you don't want a Paris, France or San Bernardino event in your community, it's time to call for a total "Immigration Shutdown Now."
Call your senators and House rep: 1-202-224-3121. Demand a stop to all immigration and stop to any Syrian immigration.
Definition of slogan: "Immigration Shutdown Now means the American people want a total shutdown on all legal and illegal immigration. That means we want all illegal immigration stopped by arresting, prosecuting and jailing employers of illegal aliens. We deport all illegal aliens by taking their jobs away and as we catch them. We want English mandated as our national language. We demand a cessation of Muslim immigration in order to protect our culture, language and way of life. We can't save the world but we can destroy our civilization. We demand a stable population that allows everyone to live, work and thrive into the 21st century. Especially our children." FHW
That's why you need to take action. Send this series to everyone in your network. Educate them. Urge them to take action by joining these websites to become faxers of prewritten letters and phone callers. We must force Congress into an "Immigration Shutdown Now!
Share these videos all over America:
www.CapsWeb.org ; www.NumbersUSA.org ; www.Fairus.org ; www.CarryingCapacity.org ; www.thesocialcontract.com
In a five minute astoundingly simple yet brilliant video, "Immigration, Poverty, and Gum Balls", Roy Beck, director of www.numbersusa.ORG, graphically illustrates the impact of overpopulation. Take five minutes to see for yourself.
"Immigration by the numbers—off the chart" by Roy Beck
This 10 minute demonstration shows Americans the results of unending mass immigration on the quality of life and sustainability for future generations: in a few words, "Mind boggling!" www.NumbersUSA.org
America: www.CapsWeb.org ; www.NumbersUSA.org ; www.Fairus.org ; www.CarryingCapacityNetwork.org
Canada: www.immigrationwatchcanada.org
United Kingdom: www.populationmatters.org
Australia: www.population.org.au Sustainable Population Australia
© 2015 Frosty Wooldridge - All Rights Reserved
---
Frosty Wooldridge possesses a unique view of the world, cultures and families in that he has bicycled around the globe 100,000 miles, on six continents and six times across the United States in the past 30 years. His published books include: "HANDBOOK FOR TOURING BICYCLISTS"; "STRIKE THREE! TAKE YOUR BASE"; "IMMIGRATION'S UNARMED INVASION: DEADLY CONSEQUENCES"; "MOTORCYCLE ADVENTURE TO ALASKA: INTO THE WIND—A TEEN NOVEL"; "BICYCLING AROUND THE WORLD: TIRE TRACKS FOR YOUR IMAGINATION"; "AN EXTREME ENCOUNTER: ANTARCTICA." His next book: "TILTING THE STATUE OF LIBERTY INTO A SWAMP." He lives in Denver, Colorado.
His latest book. 'IMMIGRATION'S UNARMED INVASION—DEADLY CONSEQUENCES.'
Website: www.FrostyWooldridge.com

E:Mail: frostyw@juno.com
---