Illegal immigration is crisis for our country. It is an open door for drugs, criminals, and potential terrorists to enter our country. It is straining our economy, adding costs to our judicial, healthcare, and education systems. —Timothy Murphy 
Hospitals are closing across the country due to the burden of illegal immigration, college students find that summer jobs have dried up due to illegal immigration, and wages across the board are depressed by the overwhelming influx of cheap and illegal labor. —Elton Gallegly
I don't think Pelosi and Schumer wanted to do it.  I don't think they should've done it.  And I guarantee you at the staff meeting tomorrow morning, somebody is gonna get, you know, chewed out pretty good about this whole thing.  I've been more excited about colonoscopies than when Schumer was giving his speech tonight.  He didn't want to be there.  These rebuttals never work.  —Former Democratic strategist James Carville
Left-wing CNN contributor Nicaraguan-born Ana Navarro filed her nails in annoyance on Wednesday night (9 Jan 19) as CNN contributor Steve Cortes tried to talk about crimes committed by illegal aliens against American citizens.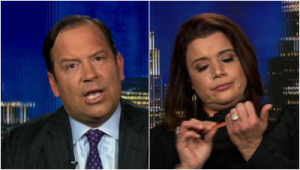 Navarro made the gesture on "Cuomo Primetime" while host Chris Cuomo discussed illegal immigration and crime rates involving illegal aliens compared to U.S. citizens.
What if Navarro's fiancé was killed by an illegal alien drunk driver?  Or what if one of Chris Cuomo's three children died at the hands of an illegal alien.  What if Chuck Schumer's daughter Amy was murdered by an illegal…or Pelosi lost one of her grandchildren at the hands of a thrice deported illegal?  Does anyone think it would make any difference?  Most of these people live in gated communities with high fences or walls to "protect" them.  Show me a leftist politician, media personality or Hollywood star who doesn't.  For those of us in the rest of America, these people don't care if the illegal alien criminals kill us or our loved ones.
American Citizens Die

Police Officer Ronil Singh is the latest casualty from our porous southern borders, shot and killed when he had stopped illegal alien Gustavo Perez Arriaga for a missing license plate.  Add Ronil's name to the list of American citizens who have died at the hands of illegal aliens, many who have been deported multiple times.
The High Cost of No Wall by John and Andy Schlafly strikes at the heart of why our President wants the southern border controlled.  How many innocent Americans have to die before we secure America from invasion?
Remember beautiful 32-year-old Kate Steinle who while walking with her father and a friend along Pier 14 in the Embarcadero district of San Francisco, was shot by José Inez García Zárate? He claimed a gun had fired accidentally while he was picking it up. On November 30, 2017, after five days of deliberations, a jury acquitted García Zárate of all murder and manslaughter charges, but convicted him of being a felon in possession of a firearm.  He had been deported five times.
Then there's the latest Gateway Pundit story of three suspected MS-13 gang members who have been charged in the stabbing of a New York high school student, all of whom are illegal aliens freed by a federal judge.
We need the wall!
Previous Bipartisan Support
In 2006 the Secure Fence Act passed with bipartisan support requiring the construction of physical barriers along 700 miles of the nearly 2,000-mile U.S.-Mexico border.   Obama, Schumer, Biden and Hillary all voted for a border wall.
In 2013, all Senate Democrats and most House Democrats backed comprehensive immigration reform legislation, the so-called Gang of Eight bill. It included $46 billion for border security and around $8 billion to repair or reinforce barriers along the 700 miles of the border as required under the Secure Fence Act.  However, the bipartisan "Gang of Eight" bill was amnesty on steroids.
The notion that the United States suffers a border-security crisis seems lost on Senate Democratic Leader Chuck Schumer of New York and House speaker Nancy Pelosi of California. They reportedly refused even to listen to Secretary of Homeland Security Kirstjen Nielsen's classified border-security briefing in the White House Situation Room. Instead, they repeatedly interrupted Nielsen as she tried to detail national-security threats on the southern front.
There have been 235,000 arrests of illegal aliens by ICE in the last year alone. That number includes 4,000 arrests for homicide, 30,000 arrests for sex crimes, and over 100,000 arrests for assault!  How can anybody look at those numbers and say this isn't a crisis?
We need the wall!
Wall Funded…for Jordan
Breitbart analyst Neil Munro wrote, "The 2018 omnibus spending bill provides just enough funds to build 33 miles of fencing on the Texas border — but it also provides $500 million to help Jordan build a wall and defense line against jihad terrorists trying to cross its 287-mile border with Iraq and Syria," in a report published March 22, 2018.
"Democrats funded a 287-mile wall in Jordan last year — but won't fund a border wall in the U.S.," writes Gateway Pundit Jim Hoft. "Nancy Pelosi argued this week that 'walls are immoral.' Chuck Schumer called President Trump's stand against open borders a 'manufactured crisis.' But less than one year ago Pelosi and Schumer approved funding on a 287-mile-long border wall — in Jordan."
Steny Hoyer, Chuck Schumer, Dick Durbin, and Nancy Pelosi, pond scum from the swamp refuse to protect American citizens from the dangerous illegal aliens coming across our border.  Drugs, diseases, MS-13 gangs, child traffickers, rapists, alcoholics, terrorists and other criminal elements cross our borders every day by the thousands, but protecting American citizens from illegal alien criminal elements is verboten to the socialist left.
Sanctuary Cities Defy ICE
Not only do illegal sanctuary cities defy U.S. Immigration and Customs Enforcement, but they endanger the lives of officials when they have to enter sanctuary states or cities. Sanctuary politicians and sheriffs who are defying the very laws of our Constitution have blood on their hands.
These officials often ignore requests from federal immigration officers to hold criminal suspects that the city has arrested for state or local criminal offenses even where the alien is charged with or convicted of a very serious felony. Releasing these criminal aliens back onto our streets affects the safety of all Americans.  The Opioid Crisis is a huge problem and sanctuary city policies affect the ability to combat the epidemic.
Former Acting ICE Director Tom Homan said that in fiscal year 2017, 81 percent of all aliens they arrested in California were convicted criminals.  He said, "We also prioritize fugitives and aliens who have illegally reentered the United States, which is a felony by the mere fact of reentering after being formally removed."
California's new Governor, Gavin Newsom, once married to Donald Trump Jr.'s girlfriend, Kimberly Guilfoyle, promised in his inauguration speech that the State of California would supply sanctuary to all who seek it.  Newsom was the former Mayor of San Francisco which is covered in human waste…yes, poop.  The Golden State has been turned into the sh**hole of the nation.
Maps are given out so people can avoid the dangerous piles of human waste.
Build the wall!
Taxpayer Burden of Illegals
Securing the border is about saving lives, and saving the American taxpayer as well.  We've all heard the horrific statistics, but let's just take a look at some of the costs.
Illegal aliens receiving Medicaid costs taxpayers $18.5 billion annually.  That amount would build a good portion of the wall.
Health and Human Services paid more than $1.4 billion last year to accommodate nearly 41,000 Unaccompanied Children (UAC) in its shelters. They stayed an average of 41 days, which means taxpayers paid about $670 a day for each child. The cost of holding someone in a federal prison, a comparison some immigration activists make to the UAC situation, is just $85 a day.  Check out the benefits these children get, with the tab picked up by us, the American taxpayers.
Illegal immigration costs American taxpayers a mind-boggling $134.9 billion annually, according to a detailed analysis of federal, state and local programs that include education, medical, law enforcement and welfare. State and local taxpayers get stuck with an overwhelming chunk—$116 billion—of the burden.
According to Judicial Watch, 2,400 UAC in Texas and Oklahoma cost us $75,833 each, or a staggering amount of $182,129,786 for only four months.
In a prior analysis, the Center for Immigration Studies estimated that the average net fiscal cost (taxes paid minus services used) of an illegal immigrant was $65,292 during their lifetime — excluding their U.S.-born children. This came to $65.3 billion per million illegal immigrants. The figures were expressed in 2016 dollars. Adjusted to 2018 dollars, it would be $69,570 per illegal immigrant, or $69.6 billion per million illegal immigrants.  Link
We've been told for almost 25 years that there are 11 to 12.5 million illegals in our country.  Guess again, by now that number is 70 to 80 million. The costs are far greater than we know.
Think how much we could save if we spent the $25 billion for a wall!
Border Patrol
In actuality, immigrants from over 75 countries illegally cross the U.S. border, not just Central Americans. Link  As I previously reported, illegal aliens claiming asylum are still being redistributed across the United States.  The U.S. Border Patrol is underfunded and understaffed.  It is an impossibility for them to surveil and enforce the 1,954-mile border even with the help of National Guard.
Daniel Greenfield wrote that in 1919 the NYTimes reported there were 18,500 soldiers on our border and that twice a day every foot of the border was patrolled by cavalrymen and infantrymen. When President Trump sought to put 2,000 to 4,000 troops on our southern border, the comrades in the Democrat Party had psychotic breakdowns.
An average of approximately 2,000 inadmissible aliens have entered each day at our southern border.  The great number of aliens who cross unlawfully into the United States through the southern border consumes tremendous resources as the Government seeks to surveil, apprehend, screen, process, and detain them.
Judicial Watch says that cartels, corruption and terrorism have ignited a major security threat on the Mexican border. Islamic terrorists are training in southern border towns near American cities and have joined forces with Mexican drug cartels to infiltrate the United States.
How can anyone look at these numbers and say this isn't a crisis?
Build the wall!
Conclusion
Constitutional law professor Jonathan Turley said that Trump has the power to declare emergencies under the National Emergencies Act of 1976 and that the Democratic response is somewhat interesting since they had zero problems, of course, with Obama circumventing the legislature on immigration, health care, and Libya.
We know the Obama appointed District Court Judges will try to throw a wrench in Trump's plans while daily more illegal aliens invade our country and overwhelm border security and taxpayers.
Democrats had no problem with border walls under Clinton, Bush or Obama, but a border wall via Trump has to be stopped.  He is not one of their establishment cronies, and as such he needs to be destroyed to limit his chances of re-election in 2020 and to gain power via the Latino vote.
So, what more does Trump have to lose by ignoring all the threats and just building the wall, and what does he have to gain by making nice with the pond scum Democrat Socialists? To hell with the Obama appointed commie judges, send the Corps of Engineers to the border and build the wall…he has that authority. No matter what our President does, the swamp creatures will give him a ration of San Francisco excrement.
© 2019 NWV – All Rights Reserved
E-Mail Kelleigh Nelson: Proverbs133@bellsouth.net