Shooter Hodgkinson Radicalized By Hate Filled Marxist Democrats, Hollywood And The Liberal Media
Relentless hatred, glorification of murder, beheading and revolting theatrical 'Julian' assassination directed at Trump, his team, his supporters and all serious patriot constitutionalists  –  promoted by the heinously deteriorated, unprincipled and coordinated and organized Far Left, Media and Entertainment industry have set a national (and international) 'norm' permitting and clearly promoting the ultimate form of violence as – somehow – an acceptable solution to their problem associated with removing obstacles to their unimpeded access to and retention of – raw political power. This contemporary 21st-century 'murder as political tool' theme didn't begin with the attempt on the life of Steve Scalise. It began with the 'sudden death' of Andrew Breitbart.  Charlite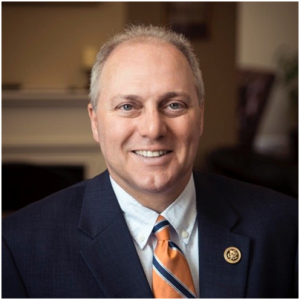 Congressman Scalise Shot by Hate-Filled Radicalized Leftist
Congressman Steve Scalise and several others were shot at a baseball practice shortly after 7 a.m. Wednesday morning at a recreational facility in Alexandria, Virginia.
The Republicans were practicing for an upcoming charity congressional baseball game.  There were no democrats present, they had practiced earlier in the morning.
A man approached the game and apparently asked Rep. Ron DeSantis, "Are you Democrats or Republicans?"  When DeSantis replied, "Republicans," the gunman walked away and then came back blasting.
House Majority Whip, Steve Scalise was shot in the hip and underwent surgery.  He is listed in stable condition, his office said.  Representative Roger Williams and Matt Mika, who works as a lobbyist for Tyson Foods, were also victims, but expected to fully recover.  Mika was there as a coach since he was a former baseball player.

Also injured were the two Capitol Police officers who have been identified as David Bailey and Krystal Griner.  Paul Ryan said, "I spoke with special agents Bailey and Greiner this morning. One was being treated and one was about to go into surgery. It is clear to me based on various eyewitness accounts that without these two heroes many lives would have been lost."
Scalise's Security Detail Saved Lives
Senator Rand Paul said Scalise's security detail exchanged fire with the active shooter.  "Steve Scalise is in leadership and that's the only reason there was security detail there at all. I'm sad that he was shot but he actually saved everybody's life by being there.  These guys were real heroes and I think without them everybody probably would have been killed."
Rep. Rodney Davis, R-Illinois, told ABC News he saw "the bravery of the two capitol police officers that engaged the shooter and saved the lives of every single person there. Without them there, this would have been a massacre."
Shooter Was A Bernie Sanders Supporter
The shooter, described as a middle-aged white male with dark hair, was taken to a local hospital where he died of his injuries.  His actions were described by police as a "deliberate attack" on unarmed civilians.  The suspect was James T. Hodgkinson of Belleville, Ill., according to law enforcement officials.
Hodgkinson loved Bernie Sanders, and actually campaigned for him, he hated 'racist' Republicans, had a history of domestic violence and had previously been arrested. He wrote on his Facebook page, "Trump is a traitor. Trump has destroyed our democracy. It's time to destroy Trump & Co." [Link]
Sanders has apologized for his campaign worker shooting Republicans.
The Left Promotes Hate And Violence
Godless hateful radical, Kathy Griffin with her ISIS depiction of a decapitated Trump, Shakespeare in the Park with their outrageous depiction of murder of our President and first lady night after night, the hatred and outrage of the media, this is the deranged base of the democrat party.  By the way, Delta Air Lines and Bank of America have pulled their sponsorships of this seditious filth.
The left claims love, tolerance, and compassion, but their propaganda is hate-filled hostility and outrage toward anyone who doesn't think like them. They are promoting their followers to become unhinged. How I wish they'd tried this with Obama and gang.
Limbaugh reported that Hodgkinson was devoted to left-wing TV and comedy programs and media personalities that promoted his radicalization. He mentioned, Last week Tonight With John Oliver, the Nightly Show on the Comedy Central, Democracy Now, The Ed Show, and the Rachel Maddow Show. He apparently loved Rachel Maddow, and wanted her to run for president. Also included were, The Daily Show on Comedy Central, and Real Time with Bill Maher. These are the shows Hodgkinson wanted everyone to watch…which clearly helped in his radicalization.
Rush went on to say that Hodgkinson may not have started out this way, but clearly, this is what you end up with when you stoke and fuel raw hatred and resentment. At some point, it's going to blow over because it cannot be contained…this is the ultimate in rage and disappointment of the fanatic left.
The leftist media and Dems cannot continue to enrage people the way they've been doing and not expect violence to erupt, but then that is most likely what they want, and they'll then turn and blame that on our President and conservatives.
Professor John Griffin of the Art Institute of Washington posted on Facebook that House Republicans "should be lined up and shot" for passing the American Health Care Act to reform Obamacare.
Back in January, on MSNBC's "Morning Joe," Senator Tim Kaine said Democrats must "fight in Congress, fight in the courts, fight in the streets, fight online, fight at the ballot box," against the administration of President Donald Trump. [Link]
The Democrats and the leftist media have been promoting this for years. Since the election of Trump, they have virtually assured their followers that Trump is guilty of everything they claim and that every congressional hearing or testimony is going to provide the proof.  AG Sessions, Comey, Sally Yates, and on and on, but their lies are dashed on the rocks of truth, and the hatred and frustration builds.
The leftists build up expectations that Trump is not really the president. They claim he cheated, and he and the Russians were in collusion to steal the election from their heroine, Hillary.
There is no evidence for any of it!  The lies they promote keep blowing up in their faces, and the frustration and anger builds to a crescendo when they are disappointed time and again that their enemy has not been vanquished.  This is how we end up with the likes of Hodgkinson.
Was Hodgkinson deranged and unhinged?
People who met and worked with this shooter said he was an average fellow, pretty laid back and mellow.  So, was he unhinged?  It's doubtful, but he was driven to extreme hatred by those mentioned above.  The propaganda infiltrated his mind to a point where he just had to follow statements like those of Professor Griffin.
How many more brainwashed by the Trump hating liberal media Hodgkinsons are out there waiting to get their revenge?
P.S.  Folks, NewsWithViews is ever on the cutting edge of what is going on in our nation.  Please help us to keep coming into your home every single morning with news you'll never get from the main stream media.  We thank you for anything you can do to help us.  Please send donations here.
© 2017 Kelleigh Nelson – All Rights Reserved