The Egyptian president, al-Sisi, gave President Trump the ultimate compliment yesterday.   He said, "Mr. President, let me express our appreciation and respect. Let me say you have a unique personality that is capable of doing the impossible." (Can you imagine the angst our American Socialist media is feeling?!)
In watching all the speeches and pomp and ceremony, I was very proud of our President, and proud for America.  For the first time in decades, I'm seeing foreign dignitaries respect America's leader, and truly like him.  Maybe it's just politics, but I don't think so.  Despite all the hatred spewed by our media, the democrats and the neo-cons, this President can and will accomplish great things.
It is suffocating living in America where freedom of speech is oppressed in the name of hatred for our President because he won the election. The disrespect and sedition fomented by the media, by Hollywood, by commentators is a sign of the disintegration of decency in our culture. Is it even possible to get back to the basics of civility with each other? The societal decay is sadly so very evident, that I highly doubt it.  I've even experienced this lack of civility from a Hillary supporting neighbor we've been friends with for 30 years.
Egypt and Saudi Arabia
It refreshing to see the president away from home, where he is treated well. Egypt's President Abdel Fattah al-Sisi led the way in confronting Islamic terrorism.  He exiled the Muslim Brotherhood and formed a coalition of Arab nations to confront the extremist elements promoting violence.  King Abdullah III of Jordan joined in 2014; and that eventually led to Saudi Arabia and the Gulf States uniting and forming an anti-extremism Arab coalition.
In 2015, King Salman of Saudi Arabia took up the cause for peace, and this has resulted in the Arab Islamic American Summit.
On Saturday, the 20th of May, Saudi Arabia's King Salman placed the King Abdulaziz al Saud Collar around President Trump's neck during a ceremony in the country's capital. The gold medallion is considered the kingdom's highest civilian honor.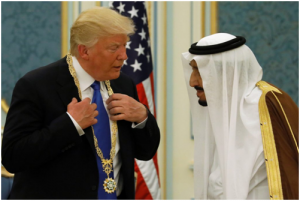 Trump received the medal during a ceremony at the Royal Court in Riyadh shortly after he arrived in Saudi Arabia for his first foreign trip as president.
Here is the full transcript of his speech where he lashes out at Iran, and says its own citizens are victims of its policies and that terror groups ISIS, Al-Qaida, Hezbollah and Hamas are responsible for generations of vanished dreams. He is right, my first son-in-law came out of Iran when the Shah was still in power, and they loved him and being westernized.  When his parents visited America, after the Shah had died, if I mentioned Khomeni's name, they'd immediately say, "Morte, Morte," meaning "death."  They hated him.
The President didn't mince words when he spoke about eliminating Islamic terrorism and murderous acts against Jews and Christians.
There is still much work to be done. That means honestly confronting the crisis of Islamic extremism and the Islamists and Islamic terror of all kinds. We must stop what they're doing to inspire, because they do nothing to inspire but kill. Religious leaders must make this absolutely clear. Barbarism will deliver you no glory. Piety to evil will bring you no dignity. If you choose the path of terror, your life will be empty, your life will be brief, and your soul will be fully condemned. And political leaders must speak out to affirm the same idea. Heroes don't kill innocents. They save them.
This is a battle between barbaric criminals who seek to obliterate human life, and decent people of all religions who seek to protect it.
This is a battle between Good and Evil.
Unfortunately, Saudi Arabia may well obtain a massive weapons arsenal and missile defense system in a $110 billion deal pushed by H.R. McMaster, Gary Cohn, and Dina Habib Powell. Under this arrangement, the Saudis will obtain technology to build civilian nuclear reactors.  President Trump has expressed strong skepticism of this deal.
The Grace of our First Lady Wins Israeli Fans
The very lovely and thoughtful first lady won many fans with her kindness to Nechama Rivlin, President Rivlin's wife.
Here is the story from my dear friend in Israel:
The most memorable moment from this trip, to me, was that moment at the entrance to the house of President Rivlin.
Nechama Rivlin, President Rivlin's wife, welcomed the First Lady Melania Trump at the door. As they were about to walk inside, Nechama whispered to Melania that she will do her best to catch up with the walking pace, but she might be a bit slower because of her medical condition which requires her to use an oxygen tank. Melania took her hand, looked at her and said, "We'll walk at any pace you choose." And so, they walked, slowly, gracefully and proudly, hand in hand.
That is the moment I choose to cherish. That silent gesture has neither any political significance nor any colorful tone to it, but it is everything.
It is the hope we yearn for when we speak of peace;
It is the kindness we wish to protect when we speak of defeating terror;
It is the dignity we want to teach when we speak of stopping hate;
It is the friendship we pray for when we speak of our unbreakable bond;
In other words, this gesture encompasses everything that is good, kind and human.
The Trumps and Netanyahus
It is quite obvious these two leaders and their wives are very affectionate friends.  Benjamin Netanyahu is a totally different man than he was with Barack Hussein Obama.
I don't remember which trip it was that Netanyahu made to the Obama White House, but I do remember that Obama was rude, offensive, antagonistic and proper protocol, which we rarely saw from Hussein, was totally defunct.  The former President even made Netanyahu use the rear entrance to the White House…such poor taste was evident with an ally we desperately need in the Middle East. I was appalled and embarrassed and angry at what was done to our ally.
Remember when Netanyahu came to the United States and addressed the joint session of Congress on the danger of the American-Iran deal? That infuriated Obama. He tried to get that speech cancelled but he couldn't because the Speaker of the House is who extends such invitations.  I loved that speech, it was phenomenal and I'm sure General Flynn can validate Netanyahu's worries.
Limbaugh reminded us of another horrible slight by Obama to Prime Minister Netanyahu.  He told this story:
Obama and Netanyahu and their various aides were working on something, and abruptly Obama got up and said to Netanyahu, "I'm leaving. I have to go have dinner with my family. You stay here. You keep working on this, and I'll come back afterwards and see where you are." The White House was very proud of that. They made sure that news got out. Disrespecting the prime minister of Israel? That was a big plus for Obama with his buddies around the world and his lunatic Democrat base.
Obama may have felt big when he did this, but he made America small.  Now we have a President who we can once again be proud of as he travels the globe and represents the United States and her people.
President Donald Trump and Israeli Prime Minister Benjamin Netanyahu delivered remarks to the media prior to dinner together at the residence of Benjamin and Sara Netanyahu.
The protocol was one of ease and great friendship, and this is historic for our country as is the fact that our president was the first to make a trip to the Western wall, one of the holiest sites in Judaism.
Netanyahu said he would go with President Trump to the wall, but our President said he did not want it to be a media event, he wished to pay respects alone.
Our President also visited the Church of the Holy Sepulcher. This was a great day for these two countries who are such great allies.
President Trump and Israeli Prime Minister Netanyahu delivered remarks to the media prior to dinner together at the residence of Benjamin and Sara Netanyahu.  The Prime Minister's comments were very interesting.
We want you to know how much we appreciate the change in American policy on Iran which you enunciated so clearly, just an hour ago.  I want you to know how much we appreciate your bold decision to act against the use of chemical weapons in Syria, and I want to tell you how much we appreciate the reassertion of American leadership in the Middle East….I look forward to working closely with you to confront the dangers we face together in this violent and volatile Middle East.
I believe that together we can roll back Iran's march of aggression and terror in this region and we can thwart Iran's unbridled ambition to become a nuclear weapon state.  I also look forward to working closely with you to advance peace in our region because you have noted so succinctly that common dangers and turning former enemies into partners, and that's where we see something new and potentially something very promising. 
It won't be simple, but for the first time in many years, and Mr. President, for the first time in my lifetime, I see a real hope for change, (not the change of former President Obama). The Arab leaders who you met yesterday could help change the atmosphere and they could help create the conditions for a realistic peace.  These are all great signs on your historic visit.  It's a visit that I think has echoed down the ages because the great Abraham Lincoln is reported to have said that there was no city on earth that he so much desired to see as Jerusalem. Well, Mr. President, Donald, there's no city on earth where you are more welcome than right here with us in Jerusalem.  Welcome to Jerusalem!  Welcome to Israel!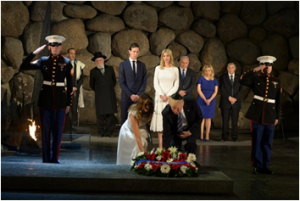 Our President and First Lady at Yad Vashem
Yad Vashem is Israel's official memorial to the victims of the Holocaust. Established in 1953, Yad Vashem is on the western slope of Mount Herzl, also known as the Mount of Remembrance.
It is dedicated to preserving the memory of the dead; honoring Jews who fought against their Nazi oppressors and Gentiles who selflessly aided Jews in need; and researching the phenomenon of the Holocaust in particular and genocide in general, with the aim of avoiding such events in the future.
Conclusion
The American media has called our President incompetent, incapable, reckless and so dangerous and stupid and uninformed and ill-prepared that he could undo all of the great accomplishments of every president before him and do it in record time.  But that's not what's happening is it!?  Instead, the foreign leaders are singing President Trump's praises.
The Donald Trump of the media would have you believe everything negative they spew about our President, but the man who is representing America is truly the epitome of a great leader.
We now have a president who is respected by foreign leaders, and I thank God for him, and would ask everyone to pray for our President, for guidance, wisdom, and protection.
© 2017 Kelleigh Nelson – All Rights Reserved